Upon completion of the eligibility audit, an eligibility card is accessible via the pipeline that provides the details related to eligible and ineligible loans. The following illustrates four Best Efforts/Mandatory eligibility card examples for the investor and seller, showing eligible and ineligible loans. In the eligible loan example, the loan has a price change due to FICO score outside the suggested range. The investor can still accept that loan, but can adjust pricing to address the additional risk factor. For ineligible loans, the ineligibility reasons found in the audited data are displayed. A link to the guidelines is also provided.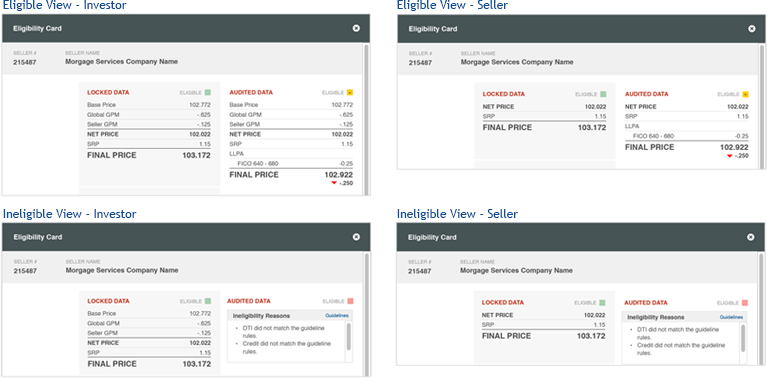 After the Eligibility Audit is complete, the loan will either be denied for purchase or a pre-purchase audit will begin. The Loan Quality Management module within the LoanHD® platform supports multiple audit services, including the Pre Fund audit review. The platform will also support both delegated and non-delegated workflows, with a pipeline view of all audits in progress.
Loan level details apprise the investor and the seller of the status and conditions identified in the pre-funding review. By clicking on the number in the condition column, the user can then access the rebuttals process.

The LoanHD® platform enables a new role for the investor. As an off-shoot of their need to vet the loans they buy, they can also provide additional value to sellers in the form of feedback on the quality of their loans and defects found. The granular detail captured in the process of clearing conditions can be analyzed to identify trends or patterns across all their loans, helping sellers to find the sources and causes of defects. It becomes a win/win for the investor and correspondent lender to reduce defects:
Investors know the risk associated with loans they are purchasing
Turnaround times are improved with fewer defects found
Risk of suspense and repurchase is reduced
Transactions become more profitable