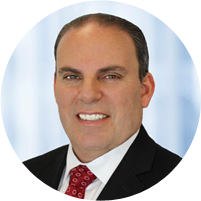 Brian K. Fitzpatrick
President & CEO
As President and CEO of LoanLogics, Inc., Brian Fitzpatrick oversees all operations of the company. He is a demonstrated leader with particular expertise in mortgage technology and business process outsourcing solutions.
Mr. Fitzpatrick has raised industry-wide awareness of how technology plays a key role in the production and measurement of loan quality and performance. He is an adept spokesperson for LoanLogics, participating on many industry panels, and has authored and been quoted in numerous articles and white papers discussing document processing, data filtering and business rules technologies.
As a result of his significant leadership, industry, and sales experience, Mr. Fitzpatrick is applying his expertise to execute a successful growth plan for LoanLogics and continue the rollout of the industry's first enterprise, end-to-end, loan quality and performance analytics platform.
Mr. Fitzpatrick has held various senior management positions with several of the nation's largest technology and business process outsourcing firms. These include: CEO of Aklero Risk Analytics, Inc., one of the merged entities that formed LoanLogics, President of Lydian Technology Group, which was the nation's leading provider of business infrastructure and integration technology for the mortgage industry, President of WellFound Decade Corporation, CEO of Decade Systems Corporation, and Senior Vice President of Sales for GHR Systems.
For outstanding achievement in leadership, Mr. Fitzpatrick was named twice as finalist for the EY Entrepreneur of the Year Award and once for the Marcum Innovator of the Year Award. These awards identify game-changing business leaders in the Philadelphia area.
In 2015, Mr. Fitzpatrick received HousingWire Magazine's prestigious Vanguard Award™ for leading and changing the housing economy. Prior to that, he also was awarded SmartCEO's Voltage Award as a Leader in Technology, recognizing his innovative efforts in developing new technologies that improve operational efficiencies. He has been a two time recipient of Mortgage Banking Magazine's prestigious IT All-Star designation for his career contributions in the field of mortgage technology, once in 2007 and again in 2012. Additionally, Mr. Fitzpatrick is the first CEO in the mortgage industry to win Mortgage Technology Magazine's coveted 10X Award twice with two different companies and technology solutions.
Mr. Fitzpatrick attended Rowan College and Temple University.